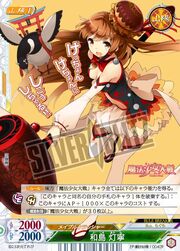 PROFILE
Name in Japanese
輪島灯寧
Rōmaji Translation
Wajima Akane
Appears in
Zanbatsu
Voice Actor (Japanese)
Rina Sato
Character Design
Mogumo
Personal Info
Gender
Female
Hometown
Hiroshima Prefecture
Akane Wajima (輪島灯寧, Wajima Akane) / Maple (メイプル, Meipuru) is a magical girl representative of Hiroshima Prefecture. Her misaki is ___. She is voiced by Rina Satou.
Appearance
Edit
Akane is a fair-skinned girl with bright, light brown eyes and long flowing brown hair with short cut bangs and forelocks held by black and red accessories. She wears a dark brown cap with pale red and gold designs, along with a piece of ruffled material held by a red string.
Her dress is black with red lining and spots of white and red. The chest is revealed down the center, along with most of her torso. Circling the lower half of her shirt is feathered material of orange, yellow, and ivory with a big, pale beige ribbon resting on it to match her puffed balloon skirt. At the end of each ribbon tail is a large red sphere, matching the bow tied at her neck. On each arm is a puffy, pale beige sleeve lined by red and black to match the cuff of her pale beige stockings. Her shoes are simple black sandals with red toe straps. She wears grey-blue, spherical earrings.
Personality
Edit
She is a kind-hearted and cheerful girl who wishes for peace. When in Magical Girl mode, she fights with a huge mallet to defeat Magatsuhi through superhuman strength.
Background
Edit
Abilities
Edit
Character Design
Edit
References

Edit