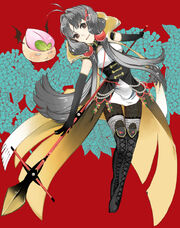 PROFILE
Name in Japanese
神代 雨子
Rōmaji Translation
Kamishiro Ameko
Appears in
Tactics, Zanbatsu
Voice Actor (Japanese)
Yuuka Nanri
Character Design
Sakurako Aoi
Personal Info
Gender
Female
Age
16
Birthday
December 25
Hometown
Nagasaki Prefecture
Height
167 cm
Vital Stats
85/58/83
Favorite Food
Castella
Sealing Tool
Holy Lance - Camellia
Designated Misaki
Momonosuke

Ameko Kamishiro is the magical girl representative of Nagasaki Prefecture, accompanied by her misaki Momonosuke.
She was designed by ____ and her voice actor is Yuuka Nanri.
Appearance
Edit
With fair skin, Ameko is a girl with dark grey eyes with a red pupil and long, silver hair worn in pigtails at the front of her head, acting as forelocks. Each pigtail is held by a round red and gold sphere, and she has two long noticeable cowlicks. On the left of her head is a red clip with a tiny pearl chain hanging from it.
She wears a very short dress under a black corset-styled jacket with very long tails of a golden ombre. On the corset are three gold straps below the chest, while hanging around the hips are two rows of pearl chains and a single row of red beads with four little gold, red, and green fringe ornaments attached to them. To the right of her sotmach is a red cross with a bead chain hanging from it, reaching the collar of her dress and sleeves, both of which are black with gold lining. The large cape-like collar is also gold in color and has two long golden tails hanging from it. With this, she wears tall black boots with a black, red, and gold flap hanging down at the center. She has sheer, fishnet-styled tights with a silver design inches above her knees lined by black frills. 
Personality
Edit
Background
Edit
Abilities
Edit
Character Design
Edit
Key details:
References

Edit