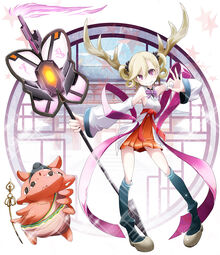 PROFILE
Name in Japanese
藤原 ふひ子
Rōmaji Translation
Fujiwara Fuhiko
Appears in
Tactics, Zanbatsu
Voice Actor (Japanese)
Ryoko Shiraishi
Character Design
TNSK
Personal Info
Gender
Female
Age
15
Birthday
August 3
Hometown
Nara Prefecture
Height
158.0 cm
Vital Stats
82.0/54.0/83.0
Favorite Food
Nara-flavored chewing gum
Sealing Tool
Third Generation One's Bar
Designated Misaki
Ashura BOY

Fuhiko Fujiwara is the magical girl representative of Nara Prefecture, accompanied by her misaki Ashura BOY.
She was designed by ____ and her voice actor is Ryoko Shiraishi.
Appearance
Edit
Nara is a tall, very thin girl with pale skin and light purple eyes. She has short platinum-blonde hair pulled into thin pigtails with a single ringlet around the bottom. Each pigtail is held by a black ruffled scrunchie. At the center of her forehead is a tuft of bangs, divided in the middle. Attached to the back of her head is a pair of ivory-beige deer antlers.
She wears a short white dress split from the center of the chest to reveal a shorter orange dress. Wrapped below her chest is a long red ribbon, while at the black collar is a lavender bow. On each arm is a large white sleeve with a dark blue-black cuff, and wrapped around her arms and back is a long flowing pink-violet ribbon. She has ivory-colored shoes resembling the hoof of a deer, worn with a pair of dark blue stockings. 
Personality
Edit
Background
Edit
Abilities
Edit
Character Design
Edit
Key details:
References

Edit