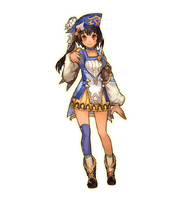 PROFILE
Name in Japanese
鵠 ほたる
Rōmaji Translation
Kugui Hotaru
Appears in
Tactics
Character Design
Tofubun
Personal Info
Gender
Female
Age
15
Birthday
September 5
Hometown
Hyogo Prefecture
Height
154.0 cm
Vital Stats
79.0/58.0/78.0
Favorite Food
Fried eggs, Akashi yaki, Tomato fruit
Sealing Tool
Toko
Designated Misaki
Rummy

Hotaru Kugui is a magical girl who is introduced to promote Hyogo as a magical girl alongside her misaki Rummy. She is voiced by ___.
Appearance
Edit
Hotaru is a tan girl with oval-shaped orange eyes and medium length black hair that appears short, with a large section pulled into a partial braid on the right of her head. She wears a blue cap with an orange and yellow design on the side. On the other side is a white ruffled ornament with a white cloth hanging from it.
Hotaru wears a dress of light blue with the torso ivory with lines on it. The skirt is light gold with a brown symbol on each pleat. Over this is a blue coat-styled dress with two gold clasps on each side of the stomach and a small orange gem below the breast. Pinned to the left breast is a gold broach with an orange gem in the center and a single, white and black feather attached to it. On the back of her coat is a pale blue flap, resembling a miniature cape with gold lining. She wears a blue choker. Over her arms are thick, baggy sleeves with ivory, pale blue, brown, gold, and gems of orange. Her shoes are black and gold with an orange gem at the tongue of each boot, and they are worn with white sheer socks. On the right leg is a blue stocking.
Personality
Edit
Background
Edit
Abilities
Edit
Character Design
Edit
References

Edit