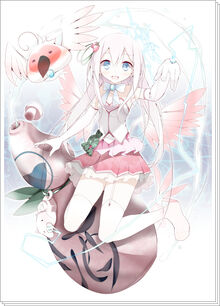 PROFILE
Name in Japanese
越後 いちこ
Rōmaji Translation
Echigo Ichiko
Appears in
Tactics, Zanbatsu
Voice Actor (Japanese)
Minami Takahashi
Character Design
Ouso
Personal Info
Gender
Female
Age
15
Birthday
October 15
Hometown
Niigata Prefecture
Height
155.0 cm
Vital Stats
72.0/55.0/75.0
Favorite Food
Milled rice, strawberry, sweet sake
Sealing Tool
Magical Gourd
Designated Misaki
Sado

Ichiko Echigo is the magical girl representative of Niigata Prefecture, accompanied by her misaki Sado.
She was designed by ____ and her voice actor is Minami Takahashi.
Appearance
Edit
Ichiko is pale-skinned with large, dull blue eyes and very pale blonde hair. Her hair appears to be short in the center and longer on the ends, with a single strand of hair almost ankle in length on each side of her head. She has long, curly forelocks reaching her chest, with most of her bangs tucked under them. On the side of her head are two strawberry clips with a single green-white ombre circled clip attached to each one. She has a pair of feathery white wings with pink tinting towards the ends.
Ichiko wears a white tank top lined in dark pink with a small, curvy heart-shape of material cut at the center of her chest. Along the hem is a pale pink ruffled piece of material and two dark emerald wrapped candies sewn to the side. Her skirt is a dark pink ruffle on top of a translucent petticoat, while on each arm is a long white glove - one of which has a sky blue electric current sparking from the top of the hand. She also wears white garter tights with a winged anklet on each leg.
Personality
Edit
Background
Edit
Abilities
Edit
Character Design
Edit
Key details:
References

Edit