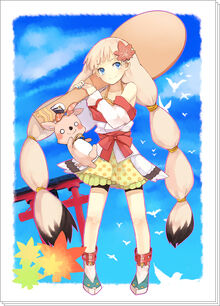 PROFILE
Name in Japanese
宮門 みわ
Rōmaji Translation
Kyuumon Miwa
Appears in
Tactics
Character Design
((Pui
Personal Info
Gender
Female
Age
16
Birthday
October 15
Hometown
Hiroshima Prefecture
Height
157 cm
Vital Stats
80/63/84
Favorite Food
Maple buns
Sealing Tool
Rice paddle
Designated Misaki
Torikki

Miwa is a magical girl representative of Hiroshima Prefecture. Her misaki is Torikki. She is voiced by ____.
Appearance
Edit
Miwa is a young, fair-skinned girl with big blue eyes and long, pale tan hair worn in pigtails. Each pigtail is sectioned into four parts, held by gold rope. At the tip of each pigtail is black coloring. She accessories her hair with a pale red leaf. To match her eyes, she wears sky blue nail polish.
Miwa wears a loose white top held by an orange frilly ribbon tied around her neck and a thick red ribbon tied around her stomach. Her top has a red band around the chest to match the cuff and wrist of her sleeves. Her bottoms consist of a pale yellow skirt with a pattern of pale orange dots on top of a pale gold ruffled petticoat and black bike shorts. On each hip is a white feathery cloth with a band of black around it. Her shoes are dull blue with white and gold accenting. The cuff is red.
Personality
Edit
Background
Edit
Abilities
Edit
Character Design
Edit
References

Edit