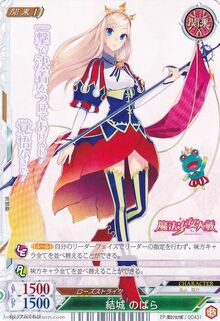 PROFILE
Name in Japanese
結城 のばら
Rōmaji Translation
Yuuki Nobara
Appears in
Zanbatsu
Voice Actor (Japanese)
Junko Minagawa
Character Design
Shosuke
Personal Info
Gender
Female
Hometown
Ibaraki Prefecture

Nobara Yuuki  / Princess Rose is a magical girl who is introduced to promote Ibaraki as a magical girl alongside her misaki ___. She is voiced by Junko Minagawa.
Appearance
Edit
Nobara is a tall, pale-skinned girl with bright blue eyes and long, straightened platinum hair with bangs brushed neatly to the side. She wears a thin headband with three big diamond-shaped topaz gems attached to it.
She wears a dress composed of a dark blue corset-styled top accented in pale yellow. The chest and neck is white with dark blue accenting and a gold badge pinned by her left collar bone. Her sleeves are elbow length and come in red and white pleat with a large, dark blue and pale yellow cuff inches from the hem. A thin white sleeve is beneath this and reaches the wrist with dark blue lining. The skirt is a red fold, shaped like a flower in the back. She wears plain red shoes with stockings of dark blue and white stripe on top of them.
Personality
Edit
Background
Edit
Abilities
Edit
Character Design
Edit
References

Edit