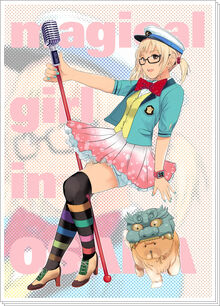 PROFILE
Name in Japanese
御堂 さくら
Rōmaji Translation
Midou Sakura
Appears in
Zanbatsu
Voice Actor (Japanese)
Kana Ueda
Character Design
Hisashi Munakata
Personal Info
Gender
Female
Hometown
Osaka Prefecture

Sakura Midou is the magical girl representative of Osaka Prefecture, accompanied by her misaki, ____. Her voice actress is Kana Ueda.
She was designed by ____.
Appearance
Edit
Sakura is fair-skinned with small brown eyes worn with black glasses. She has platinum blonde hair worn in short pigtails held by red ornaments. On the top of her head is a white cap with a light blue rim and design on the front. She has pale blue nail polish.
She wears a pale yellow vest over a white shirt and beneath a pale blue jacket with a black and gold badge design on the left side of the chest. At her neck is a large red bow with tiny speck-sized dot print. Her skirt is a gradience of white to pink with a faded floral texture along the lower half. Beneath that is a pair of white bike shorts and two white frilled petticoats. Her shoes are pale tan with a dark brown toe and back of the heel. The bottom and heel is light brown, and at the tongue of each shoe is an emerald band held by light green string. She wears a pair of black striped stockings with each shoe; one has stripes of purple, indigo, pale green, and pale brown, while the other has stripes of pale orange, teal, pink, and red.  On her left wrist is a pink watch-like accessory.
Personality
Edit
Background
Edit
Abilities
Edit
Character Design
Edit
Key details:
References

Edit