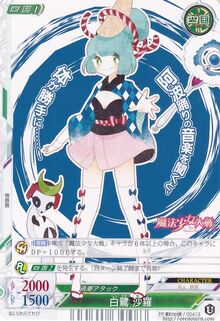 PROFILE
Name in Japanese
白鷺 沙羅
Rōmaji Translation
Shirasagi Sara
Appears in
Zanbatsu
Voice Actor (Japanese)
Kaede Yuasa
Character Design
Tetsuusagi
Personal Info
Gender
Female
Hometown
Tokushima Prefecture

Sara Shirasagi / Magical Virtue is the representative magical girl of Tokushima Prefecture, fighting alongside her companion misaki __.
She was designed by ___ and is voiced by Kaede Yuasa.
Appearance
Edit
Sara is a very pale girl with large, dark green eyes. She has long pale blue hair pulled into a curled bun bound with white and red striped rope and a beige ornament. Her bangs are straight cut directly above her eyes, with matching forelocks ending at her chin.
She wears a white long sleeved shirt with a black corset on top of it, held with a red and white ribbon. Covering her shoulders is a shawl of dark blue, blue, and white diamonds with a black collar and pale blue coloring inside. Her skirt is a plain, pale pink fold, while on each foot is a black sandal with red toe straps and white stockings held by several red and blue bows.
Personality
Edit
Background
Edit
Abilities
Edit
Character Design
Edit
Key details:
References
Edit