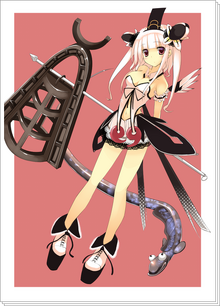 PROFILE
Name in Japanese
吉野 沙也香
Rōmaji Translation
Yoshino Sayaka
Appears in
Tactics, Zanbatsu
Voice Actor (Japanese)
Keiko Hashimoto
Character Design
Iku Akasaka
Personal Info
Gender
Female
Age
14
Birthday
May 22
Hometown
Saga Prefecture
Height
143 cm
Vital Stats
72/58/76
Favorite Food
Potato chips
Sealing Tool
Tec-chan (Bronze bell-shaped hammer)
Designated Misaki
Mutti

Sayaka Yoshino (吉野沙也香, Yoshino Sayaka) / Sagako Yoshinogari (吉野ヶ里さが子, Yoshinogari Sagako) is the magical girl representative of Saga Prefecture, accompanied by her misaki, Mutti. Her voice actress is Keiko Hashimoto.
She was designed by ____.
Appearance
Edit
Sayaka is fair-skinned with big dark pink eyes. She has long, pale pink hair with most of it worn down and straight cut bangs. One of her forelocks appears very long in length, while a long, curled pigtail is on each side at the top of her head, held with a black and pale pink flowery cap. At the center of her head is a black headband with a thin material attached to it.
She wears a pale pink revealing tank-top lined in black with a large cut in the center, below her breasts, forming two "tails" held with a large, magenta magatama. A thin, black string bow is tied at the center of her chest, below her breast. Below each shoulder is a black band lined by pale pink frills with a black and pale pink wing attached to it, while around her neck is a pale pink collar with black lining. her bottoms are pale pink and lined with black lace at the hem. On each hip is a black, fin-like section of maerial with design cut out at the center. She wears pale pink sneakers with black string and thick, platform heels. The cuff is mainly black with lining of pale pink.
Personality
Edit
Background
Edit
Abilities
Edit
Character Design
Edit
Key details:
References

Edit