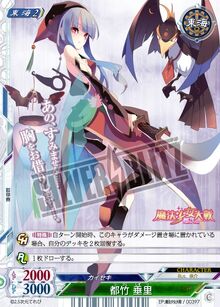 PROFILE
Name in Japanese
都築重里
Rōmaji Translation
Tsuzuku Shizuri
Appears in
Zanbatsu
Voice Actor (Japanese)
Yuu Hamagashira
Character Design
Kyosuke
Personal Info
Gender
Female
Hometown
Gifu Prefecture

Shizuri Tsuzuku is a magical girl who represents Gifu Prefecture. She is voiced by Yuu Hamagashira. Her misaki is ___.
Appearance
Edit
Shizuri is a fair-skinned girl with red eyes and medium-length dull blue hair that appears short in the back, but with long, curled forelocks reaching her waist. Her bangs are straight cut aznd worn with a red and black cap with two points at the back, each with a small gold sphere attached to a fringe.
Personality
Edit
Background
Edit
Abilities
Edit
Character Design
Edit
References

Edit