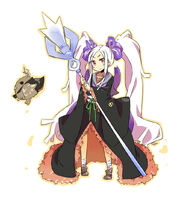 PROFILE
Name in Japanese
天下 統
Rōmaji Translation
Amashita Subaru
Appears in
Tactics
Character Design
Inori Kokei
Personal Info
Gender
Female
Age
8
Birthday
June 10
Hometown
Aichi Prefecture
Height
132 cm
Vital Stats
67/52/69
Favorite Food
Cookies, milk tea
Sealing Tool
Seto-dyed grilled stick
Designated Misaki
Nobunaga-san

Subaru Amashita is a magical girl coming from the Aichi Prefecture. Her misaki is Nobunaga-san.
She is voiced by ___. 
Appearance
Edit
Subaru is a fair-skinned girl with pale red eyes and very long, white hair worn in pigtails held by purple ribbons. She has noticeable small, light purple blushed cheeks. Her outfit is mainly composed of an oversized, black gown reminiscent of a kimono lined by pale red fluffy material. Her legs are revealed and are composed of brown shoes and small white bandages around her ankles. Around her waist is a white band held by a thin, light green string, while on her back is a large purple ribbon. The collar resembles that of a sailor fuku and is pale purple.
Background
Edit
Abilities
Edit
Character Design
Edit
References

Edit