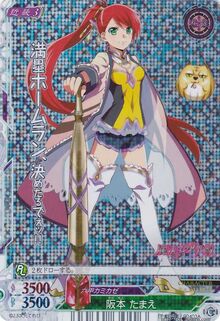 PROFILE
Name in Japanese
阪本 たまえ
Rōmaji Translation
Sakamoto Tamae
Appears in
Zanbatsu
Voice Actor (Japanese)
Arisa Kyoto
Character Design
Yuichi Murakami
Personal Info
Gender
Female
Hometown
Hyogo Prefecture

Tamae Sakamoto is a magical girl who is introduced to promote Hyogo as a magical girl alongside her misaki ___. She is voiced by Arisa Noto.
Appearance
Edit
Tamae is a fair-skinned girl with big, emerald eyes and long flowing crimson hair pulled into a thin ponytail held by a gold accessory.
She wears a black tank-top with the front being lemon in color. Lining the bottom is a gold line, while silver lines the top and shape of the diamond stone between her chest. Sticking out of her shirt at the bottom is translucent ruffled material. She wears a dark blue pair of shorts with the lavender hem appearing ripped. Over her outfit, Tamae wears a white to pink gradient jacket lined in black with tiny frills on the hem. The cuff is black with the same frills sticking out of it. The jacket is cut at the bottom-center to form a large hole, and on the inside of it is a large piece of translucent lace, resembling a cape. She wears a black fingerless glove on each hand, and a pair of tall white boots with gold bottoms and heel. The cuff has a thick gold line and a small diamond-shaped stone. Around her neck is a white collar with a ruby sphere on it.
Personality
Edit
Background
Edit
Abilities
Edit
Character Design
Edit
References

Edit