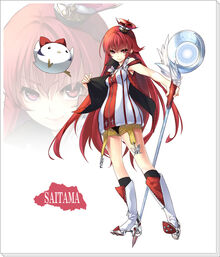 PROFILE
Name in Japanese
埼城 玉彩
Rōmaji Translation
Saijou Tamame
Appears in
Tactics, Zanbatsu
Voice Actor (Japanese)
Asami Seto
Character Design
KOSO
Personal Info
Gender
Female
Age
16
Birthday
November 14
Hometown
Saitama Prefecture
Height
159 cm
Vital Stats
75/57/80
Favorite Food
Karaage
Sealing Tool
Sai no Kuni
Designated Misaki
Shirako

Tamame Saijou / Princess Saitama is the magical girl representative of Saitama Prefecture, accompanied by her misaki, Shirako. Her voice actress is Asami Seto.
She was designed by ____.
Appearance
Edit
Tamame is fair-skinned with slanted red eyes and long, flowing red hair worn with a large red gem balancing on a small crown-like piece.
She wears a short white dress with silver ornaments before the elbow, attached to a long red plaid vest-like jacket. A thin red line pattern is on the dress, with a silver zipper resting on a thick, center red stripe depicting a tiny silver sword design towards the bottom. She also wears dull gold short-shorts with black coloring at the center and a loose strap holding a silver butterfly. Her white boots have long flaps with a low zipper revealing red coloring and her black tube socks. Attachements of red and silver are at the heel and toe of each boot, along with a single wheel.
Personality
Edit
Background
Edit
Abilities
Edit
Character Design
Edit
Key details:
References

Edit