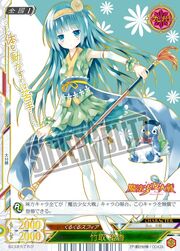 PROFILE
Name in Japanese
竹取 橙香
Rōmaji Translation
Taketori Touka
Appears in
Tactics
Character Design
Mizumidori
Personal Info
Gender
Female
Age
14
Birthday
November 3
Hometown
Oita Prefecture
Height
150.0 cm
Vital Stats
75.0/56.0/74.0
Favorite Food
Dango soup, Yaseuma
Sealing Tool
Flat rod
Designated Misaki
Yukichi

Touka Taketori is the magical girl representative of Oita Prefecture, accompanied by her misaki, Yukichi.
She was designed by ____.
Appearance
Edit
Touka is pale-skinned with slanted blue eyes and light blue hair of waist lenght. She has straight cut bangs and  short forelocks, worn with a yellow and white headband with an ornament sewn to the side, along with a thin yellow ribbon.
She wears a melon-colored jacket lined in gold with a thick blue band around the stomach, lined by ruffles on the top and a row of tiny flowers along the bottom. It is held by a gold ribbon knotted into a bow. On each arm is a long white glove with a very thin gold ribbon below the cuff, while on the wrist is a ruffed melon accessory. Her skirt is a two-layer ruffle; the top is melon while the second is light blue. Her shoes are simple sandals with gold toe straps, worn with a long white pair of toed stockings.
Personality
Edit
Background
Edit
Abilities
Edit
Character Design
Edit
Key details:
References

Edit