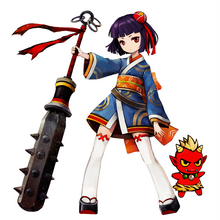 PROFILE
Name in Japanese
雪
Rōmaji Translation
Yuki
Appears in
Zanbatsu
Voice Actor (Japanese)
Sayaka Nakaya
Character Design
HIRONOX
Personal Info
Gender
Female
Hometown
Iwate Prefecture

Yuki is a magical girl who represents Iwate Prefecture. Her misaki is ___, and she is voiced by Sayaka Nakaya.
Appearance
Edit
Yuki appears to be a young girl with pale skin and sharp red eyes. She has black hair with a tint of purple, worn in a loose bob-cut with straight bangs and a red flower ornament with ribbon hanging from it. She has red makeup at the corners of each eye.
She wears a navy-colored kimono lined in white with gold cirled shapes randomly placed. Around the bottom is a line of crimson, lined by yellow to match the material sticking out of each sleeve. The material at her neck is orange in color, matching the thick orange ribbon tied around her waist. The ribbon has a thick white diamond line design and is lined by white and held with a thin string of acid-green. She wears black and red platform sandals with dark crimson toe-straps with a pair of white toed stockings
Personality
Edit
Background
Edit
Abilities
Edit
Character Design
Edit
References

Edit